Premier Roofing Contractor in Rehoboth Beach, DE | Roof Repair and Installation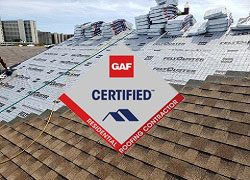 At Roof Rite, we take pride in being the premier roofing contractor serving Rehoboth Beach, DE, and surrounding areas. With our extensive experience, attention to detail, and commitment to customer satisfaction, we provide top-notch roofing services for both residential and commercial properties. Whether you need roof repair, installation, or maintenance, our skilled team of roofers is dedicated to delivering exceptional results. Trust us to protect your property and provide you with a reliable, long-lasting roof.
Professional Roof Repair and Installation Services
At Roof Rite, we specialize in a wide range of roofing services in Rehoboth Beach, DE, including roof repair and installation. Our team of highly skilled and experienced roofers is committed to delivering quality craftsmanship and excellent customer service. Whether you have a leaky roof, damaged shingles, or need a complete roof replacement, we have the expertise and resources to handle projects of any size or complexity.
Expert Roofers Ensuring Quality and Durability
When it comes to your roof, you need professionals who understand the importance of quality and durability. Our team at Roof Rite is dedicated to using only the best materials and industry-leading techniques to ensure the longevity and strength of your roof. We work with renowned manufacturers to source high-quality roofing materials that are both aesthetically pleasing and built to withstand the challenging weather conditions of Rehoboth Beach, DE.
Comprehensive Roofing Solutions for Residential and Commercial Properties
Whether you need roofing services for your home or commercial property in Rehoboth Beach, DE, we have you covered. Our skilled roofers have the expertise to handle various types of roofs, including asphalt shingles, metal roofs, flat roofs, and more. We customize our services to meet your specific requirements and ensure that your roof provides optimal protection and insulation.
Customer Satisfaction and Peace of Mind
At Roof Rite, customer satisfaction is our top priority. We understand that your home or business is one of your most significant investments, and we aim to provide you with peace of mind through our reliable and high-quality roofing services. Our team will communicate with you throughout the project, ensuring transparency and addressing any concerns or questions you may have. We stand behind our workmanship and offer warranties on our roofing installations, giving you confidence in the durability and reliability of your roof.
Contact Us Today for Reliable Roofing Services in Rehoboth Beach, DE
If you're in need of a reputable roofing contractor in Rehoboth Beach, DE, look no further than Roof Rite. Our skilled team of roofers is ready to assist you with all your roofing needs, whether it's roof repair, installation, or maintenance. Contact us today for a free consultation and let us provide you with the highest-quality roofing solutions that will protect your property for years to come.
See Some of Our Other Services: